The Scottish Highlands Golf Vacation
Enjoy the Highlands rugged beauty and some of the best golf in the world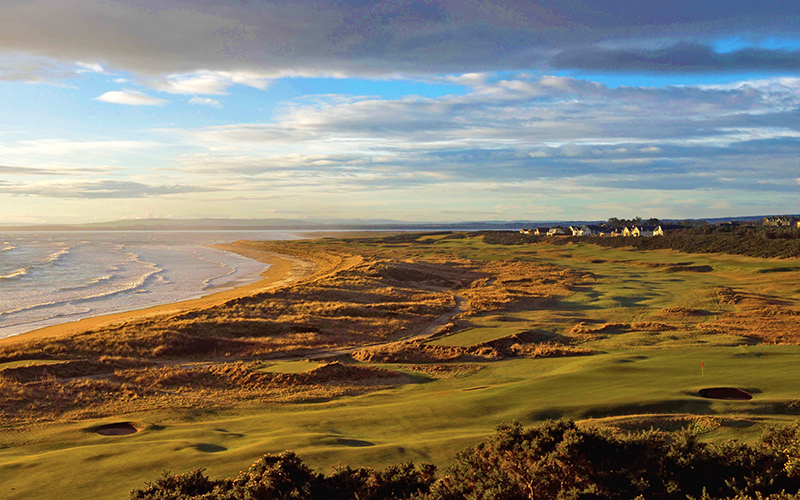 Scottish Highlands Golf Vacations
Royal Dornoch, Castle Stuart, Brora, Tain, Fortrose, Moray... the Highlands overflow with Top 100 golf...
As you will discover yourself, golf in this wondrously rugged part of Scotland is some of the best in all the world. The Highlands are famous for Loch Ness, stunning scenery, great whisky and championship links golf. Home to one of the worlds great golf courses, Royal Dornoch is certainly worth the trip alone. However, the Highlands offers so much more, with such courses as Nairn, Brora, Fortrose & Rosemarkie, Moray, and Castle Stuart being close at hand and among the very best in all of Scotland.
Close to Inverness are some of Scotland's most historic and famous courses. James Braid's links at Brora and Fortrose & Rosemarkie, Old Tom Morris' layout at Tain and the relatively new but fantastic links at Castle Stuart should all be part of your trip to the Highlands.  And no golf vacation to the Scottish Highlands is complete without a distillery tour or two, with some of the best ones being Glenmorangie, The Glenlivet, and The Macallan distilleries.
Scottish Highlands Golf Packages
Scottish Highlands
5 nights at the Kingsmills Hotel Inverness

5 rounds of golf at Royal Dornoch, Castle Stuart, Tain, Brora & Fortrose & Rosemarkie

Full Scottish Breakfast

Car or van Rental (self-drive)

Thank you gift from Epic Golf Travel

Price includes all taxes and surcharges
from $1490 USD pp
Not quite what you're looking for? Let us tailor your personal golf vacation!
Scottish Highlands
7 nights at the Kingsmills Hotel Inverness

7 rounds of golf at Royal Dornoch, Castle Stuart, Tain, Brora & Fortrose & Rosemarkie, Nairn & Nairn Dunbar

Full Scottish Breakfast

Car or van Rental (self-drive)

Thank you gift from Epic Golf Travel

Price includes all taxes and surcharges
from $1775 USD pp
Not quite what you're looking for? Let us tailor your personal golf vacation!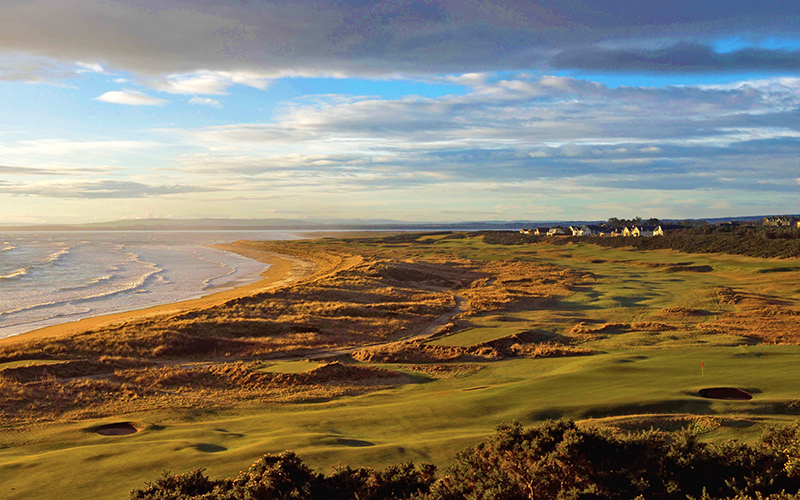 Royal Dornoch Golf Club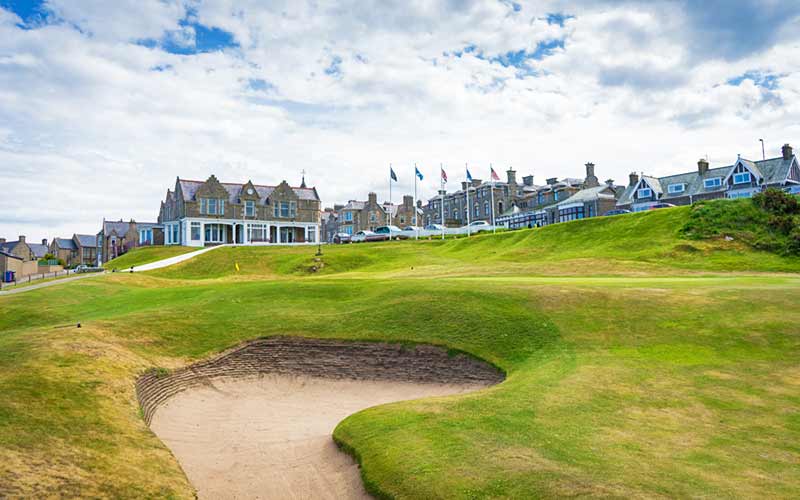 Moray Golf Club (Old)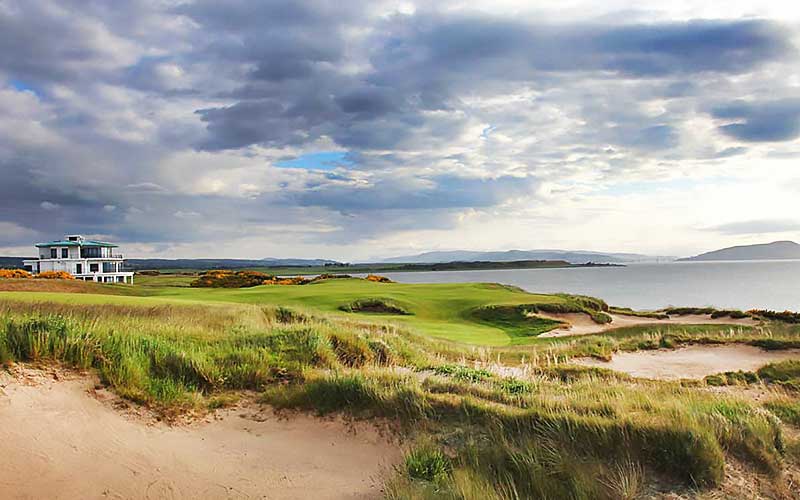 Castle Stuart Golf Links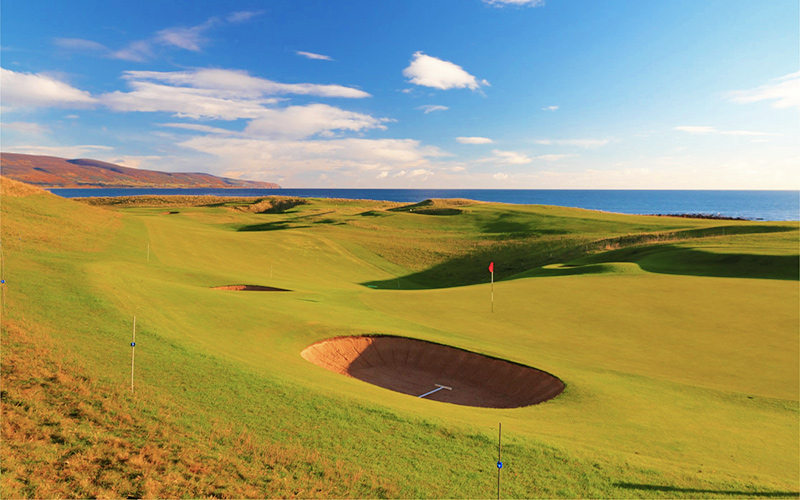 Brora Golf Club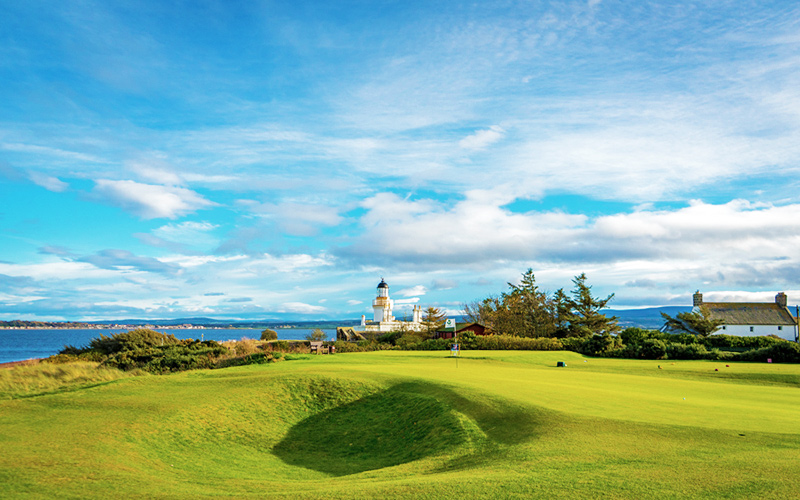 Fortrose & Rosemarkie Golf Links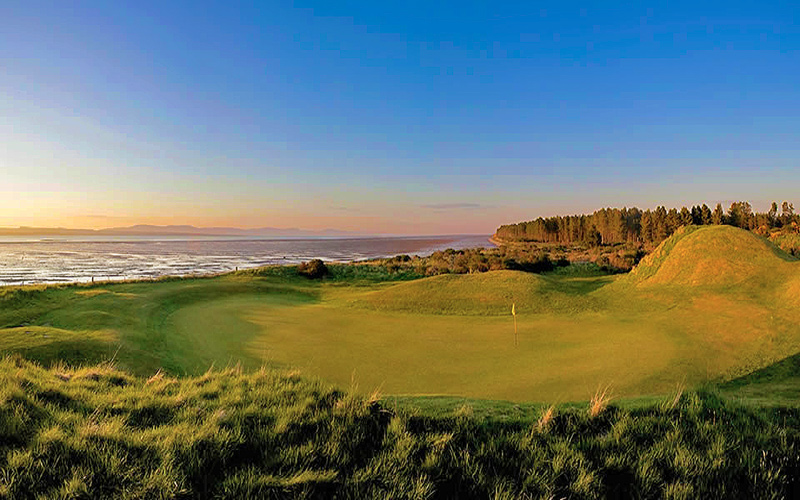 Tain Golf Club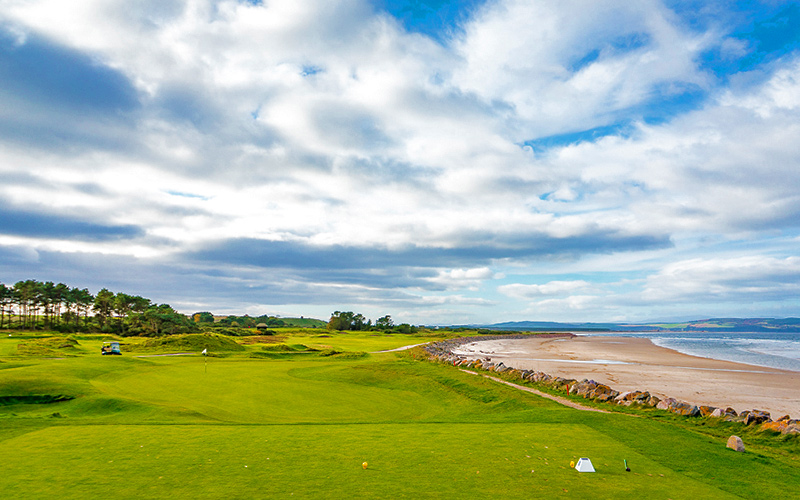 Nairn Golf Club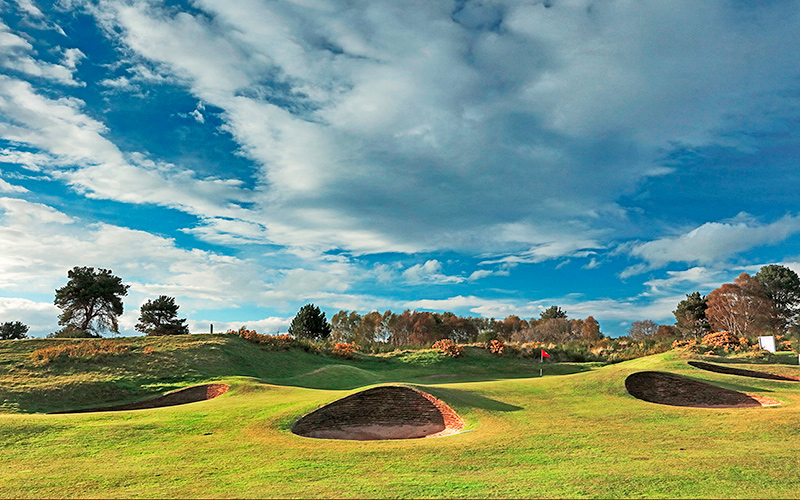 Nairn Dunbar Golf Club
Royal Dornoch Golf Club

18 holes, par 70, 6,748 yards

Formed in 1877, Royal Dornoch is spellbinding and golfers from all over the world make the pilgrimage to this natural links at some point in their lives. It is a must play and is currently ranked number 2 in the world by both Golf and Golf Digest Magazines.

It's the timeless setting that makes Royal Dornoch such a pleasing place to play golf. It's wild, isolated and, at the same time, absolutely beautiful; there's the blaze of color in early summer when the gorse is in bloom. The white sandy beach divides the links from the Dornoch Firth and it all feels very humbling.

You can expect the experience at Royal Dornoch to be relaxed and informal, with an emphasis on traditional highland hospitality.

Moray Golf Club (Old)

18 holes, 71 par, 6,717 yards

Golfers have been enjoying Moray Golf Club since it was founded in 1889. Old Tom Morris, who became a frequent visitor and played a number of exhibition matches in the early days, originally laid out the Old Course.

The first hole runs directly along the coast on the Old course and is followed by a series of holes that work their way a little further inland over the first eight holes at Lossiemouth. Four of these are par fours exceeding four hundred yards, with bunkers providing an additional defense. The westernmost point is reached as Covesea Lighthouse dominates the skyline on the 11th and this hole begins another sequence of four strong par fours.

Moray has played host to many national championships over the years and this excellent 6,717-yard par 71 links provides a real challenge to even the best golfers. Featuring one of the finest finishing holes in Scottish golf, the Old course is fantastic and the vistas are expansive.

Castle Stuart Golf Links

18 holes, 72 par, 7,009 yards

The centerpiece for this Scottish destination golf resort is Castle Stuart Golf Links, a championship links course overlooking the Moray Firth and well-known landmarks that are synonymous with Inverness and the Black Isle – Kessock Bridge and Chanonry Lighthouse being the most notable.

For the holes immediately abutting the sea, the Kessock Bridge and Chanonry Lighthouse are often seen directly through the shotmaking frame. Atop the 'old sea cliff' these same Black Isle landmarks are often presented from towering heights that offer more spectacular visuals.

Surrounding the golfer is a rugged and natural landscape with vast expanses of gorse, broom, heather, and sea marram. The bunkering is characterized more by open sandy areas with pockets of light vegetation than by formally revetted (stacked sod or turf) manicured bunkers. And from some tees and greens, the 1930s style white 'Art Deco'  clubhouse can be seen sitting prominently atop its viewing perch.

All in all Castle Stuart can be described as a throwback to golf as it once was – a simple walk through pleasing natural surroundings with both friends and amazing views to accompany you.

Brora Golf Club

18 holes, 70 par, 6,211 yards

Brora Golf Club lies 20 miles north of Dornoch and it's one of the most delightful short road journeys imaginable. Brora is probably the least well known links course in Scotland but really does deserve to be discovered. Brora Golf Club was founded in 1891 and in 1923, James Braid was commissioned to work several redesigns of the course, and little has changed since.

It's a traditional out and back layout with the opening nine holes hugging the North Sea coastline. We can think of no other course in Scotland which has so many holes playing so close to the sea, especially ones with no dunescapes to hide the view. The ground undulates gently and you can expect to encounter the occasional burn and a series of electric fences, which do a fine job of keeping the sheep off the fast Brora greens.

Measuring 6,211 yards from the back tees, Brora is not of championship length, but playing to your handicap will be an achievement, not only because the greens are difficult to hit, but because it's even tougher to concentrate on golf when you have such breathtaking surroundings. The great late Peter Thomson, winner of Five Open Championships, proclaimed Brora to be his favorite golf course in the world.

Fortrose & Rosemarkie Golf Links

18 holes, 71 par, 6,085 yards

There is reference to golf being played at Fortrose & Rosemarkie as far back as 1702, though it was not until 1793 that a formal golf club was organized. The course was extended from 9 to 18 holes in 1924 but it was ten years later before James Braid shaped the links to its current design and Sir Hector Monro opened the revamped course 1935.

Fortrose & Rosemarkie lies on a narrow peninsula jutting out into Rosemarkie Bay and protects the entrance to the Moray Firth. A lighthouse stands at the point, and the road there divides the course in two. There is just enough land either side to accommodate this shortish but testing links course.

What Fortrose & Rosemarkie lacks in yardage is more than made up for with its small, subtle greens, strategic bunkering, dense island gorse, blind approaches and the proximity of the sea at nearly half the holes. And the club has recently proudly hosted two national competitions, the first time the club has ever attracted such prestigious events to the Black Isle.

Fortrose & Rosemarkie Golf Links is the 15th oldest recorded golf club and is ranked among the Top 50 Golf Courses in Scotland by Golf World.

Tain Golf Club

18 holes, 70 par, 6,404 yards

With panoramic views across the Dornoch Firth, Tain's Highland setting is dramatic and also pleasantly sheltered with the estuary on one side and the mountains of Easter Ross on the other.

Tain Golf Club was founded in 1890 and Old Tom Morris was commissioned to design the course. After a detailed survey of the land, Old Tom found only 15 suitable green sites and the course opened with only 15 holes. Some years later, the course was extended to 18 holes with Old Tom's mark still indelibly etched on the course to this day.

Today Tain plays to 6,404 yards from the medal tees, where accuracy rather than length is essential. The nature of Tain is a combination of links and heathland and there are a number of forced carries across tangly heather to rumpled fairways, edged by dense gorse.

Tain will always remain in the shadow of its illustrious neighbor, Royal Dornoch, which lies on the opposite bank of the Dornoch Firth. But whatever you do, don't pass Tain by. There is variety and fun to be had on this challenging course.

Nairn Golf Club

18 holes, 72 par, 6,774 yards

Nairn Golf Club is located on an elevated, rumpled piece of linksland on the Moray Firth coastline, close to the historic fishing port. It's one of Scotland's lesser-known gems.

This is a course which has been touched by many great architects. The club was founded in 1887 to an original design by Archie Simpson. A few years later Old Tom Morris extended the layout and, prior to the Great War, James Braid made further alterations. Directly after the Great War, Ben Sayers added his mark to the course only to find James Braid itching to polish off the design. It is no wonder that Nairn is such a detailed masterpiece.

One of the most spectacular seaside courses in Scotland, Nairn boasts sea views from every hole. When the sun is low in the sky and the shadows are long, you cannot fail to appreciate the undulating, bunker-pitted moonscape that is Nairn. It's a delightful links with fast, firm but narrow fairways, a number of which are framed by gorse bushes and heather, heaping further pressure onto a nervous drive. The greens are sited in the trickiest places – some are raised and others are nestled in hollows. Most are well protected, either by bunkers or natural hazards, and all of the greens are fast and true, a Nairn trademark.

Nairn Dunbar Golf Club

18 holes, 72 par, 6,765 yards

Nairn Dunbars' original 9 holes were opened on May 24, 1899, Queen Victoria's 80th birthday. The second nine was opened just after World War I and it has remained relatively unchanged since. The club hosts the R&A's Boys Amateur Championships, so it is highly regarded by most experts.

A challenging par four opens your round, followed by a shortish par four, then a straightforward par three, allowing a relatively gentle warm up. Be prepared though for a strong quartet of long, demanding par fours which are then encountered, where gorse, trees, greenside bunkers and out of bounds all present problems. This tough sequence of holes is then topped off by the semi-blind par three "Brodie," the 163-yard signature hole, with its green nestled in a bowl, surrounded by bunkers.

Three newer holes are located around the turn, at the furthest point from the clubhouse, before the routing moves inland, culminating in a muscular three-hole stretch that maintains the challenging nature of Nairn Dunbar right to the end. With two par fives in this closing stretch, you might think there's the chance of a birdie or two... but both require true shotmaking, with the home hole having a blind approach shot to a severely raised green.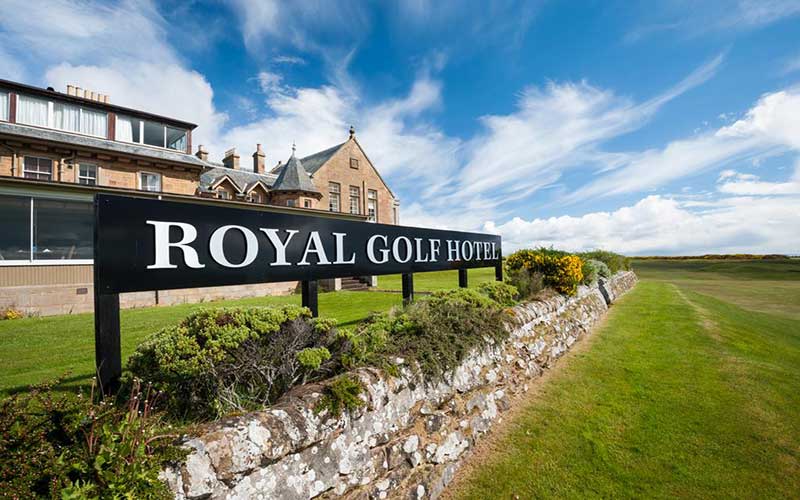 Royal Golf Hotel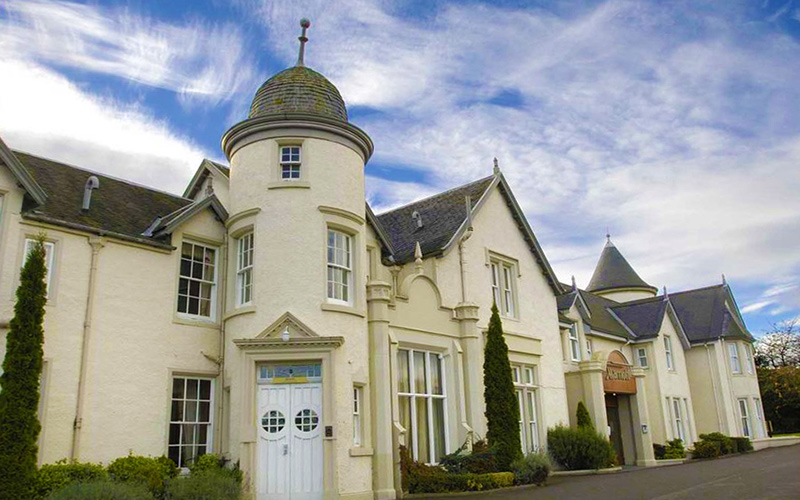 The Kingsmills Hotel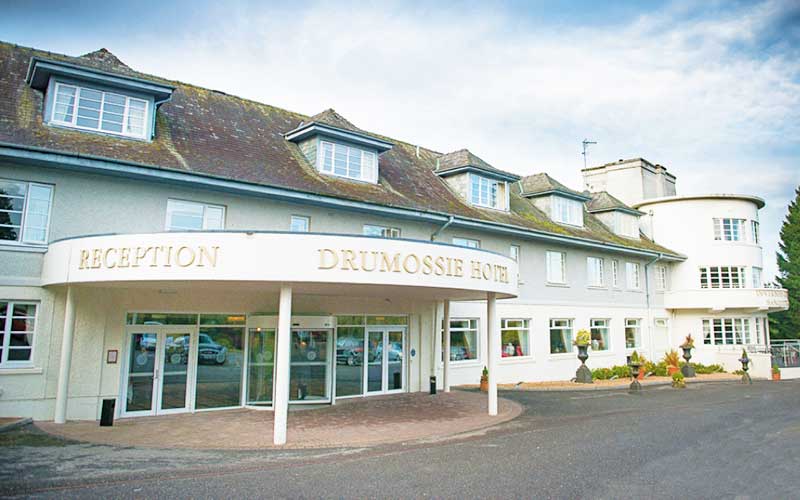 Macdonald Drumossie Hotel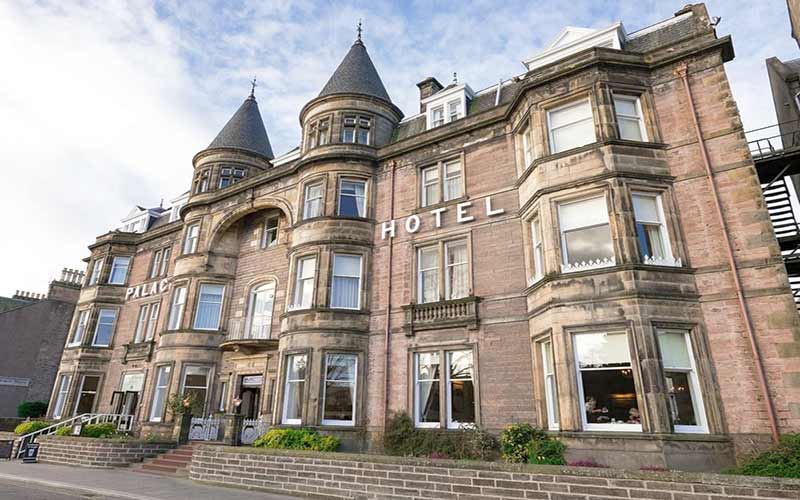 Inverness Palace Hotel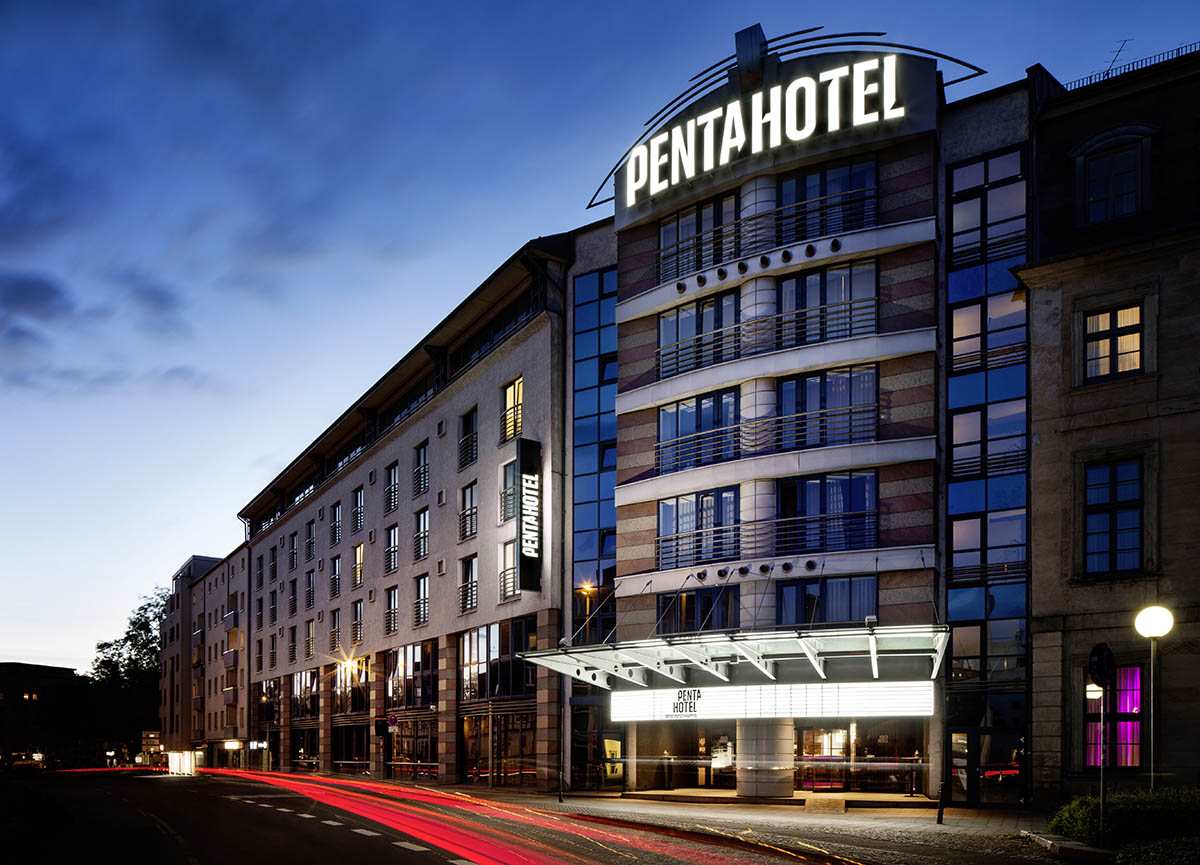 The PentaHotel Inverness
Royal Golf Hotel

Ideally located in the historic borough of Dornoch, the award-winning 4 Star Royal Golf Hotel offers a picturesque setting and convenient access to the northern courses of The Highlands. Royal Dornoch Golf Club's first tee is right out the back door of the hotel, it's almost impossible to oversleep and miss your tee time!

All bedrooms are individually-styled within the hotel and overlook Royal Dornoch or the Dornoch Firth. Stunning panoramic views are on offer while dining in the Conservatory Restaurant. The menu is served all day and offers delicious dishes made from locally sourced produce.

Golf is the main pull to this four-star hotel as it is surrounded by 20 golf courses all within 1 hours drive. Play at the likes of Nairn, Royal Dornoch, Brora and Tain Golf Club, just to name a few.

The Kingsmills Hotel

History is a major part of the 4 Star Kingsmills Hotel, with royalty and Prime Ministers having stayed here. Surrounded by spectacular Inverness scenery and manicured grounds, this outstanding 18th century hotel is in the perfect location for your ultimate golf vacation to Scotland.

The Kingsmills features luxurious rooms all with traditional Scottish themed décor. All rooms have modern facilities including iPod docks, flat screen televisions and en suite bathrooms. The hotel offers an on-site leisure club with an indoor heated swimming pool and fully-equipped gym. You may also tailor your own spa experience from a range of therapeutic treatments available.

Scottish culinary delights are on the menu at both The Inglis Restaurant and The Conservatory, as their skilled chefs have developed fabulous dishes, all with local meats and produce when available.

Being just a short drive away from some of the most challenging and beautiful golf courses in the area makes Kingsmill Hotel the perfect base for your Scottish golf vacation.

Macdonald Drumossie Hotel

Set in nine acres of private parkland with spectacular views over the Moray Firth, the 4 Star art deco New Drumossie Hotel is an oasis of peace and elegance. Located just 10 minutes drive from the center of Inverness, it is also centrally located to all of The Highlands championship golf courses.

All 44 rooms offer free WiFi, Egyptian cotton sheets and TVs with satellite channels. Separate bathtubs and showers, coffee makers, and hair dryers are among the other room amenities.

Macdonald Drumossie Hotel is a smoke-free property. Dining facilities at the hotel include two restaurants, one casual and one fine dining. There is also room service available. The hotel has a 24-hour front desk. Other hotel amenities include gardens, patios and tennis courts.

Inverness Palace Hotel

Nestled on the banks of the River Ness, opposite Inverness Castle, the Inverness Palace Hotel & Spa offers a collection of Victorian properties and a modern garden cottage just a few steps from Inverness city centre. Dating back to the 1890's, the Palace Hotel presents the period architecture in both properties with a contemporary style. The hotel features an elegant Brasserie, Bar and lounge, completely refurbished 10 at the Palace restaurant and is the only Inverness river side hotel with a superb Leisure Club & Spa (including a pool!)

You are just a short walk across the River Ness to the bustling shops, Inverness Castle & new viewing platform, Eden Court Theatre and excellent restaurants.

The PentaHotel Inverness

The Pentahotel Inverness the perfect place to stay while visiting the Scottish Highlands. Located in downtown Inverness, The Penta is within walking distance of almost every restaurant, pub and attraction in Inverness. It is a block from the train station and a ten minute drive from the Inverness International Airport. Like the local star attraction Nessie of Loch Ness fame, the hotels friendliness and helpfulness is legendary and its' genuinely cool design gives your stay that hip vibe all golfers are looking for... haha. A 90-room concept over five floors, Pentahotel is only a minute's walk away from the Inverness railway station and lies next to the towns public golf course where you can practice after another perfect day of golf.
Are you ready to get started? Simply fill out our quote page and we'll get back to you within 24 hours! Need some help making plans? Just contact our golf experts for more information.
Are you ready to get started? Simply fill out our quote page and we'll get back to you within 24 hours! Need some help making plans? Just contact our golf experts for more information.