PGA WEST, RANCHO MIRAGE & INDIAN WELLS ARE BUT A FEW OF THE PLACES TO PLAY...
Surrounded by four picturesque mountain ranges, Palm Springs is sought after by golfers and adventure lovers alike. It is Southern California's most storied resort oasis.
Greater Palm Springs is an oasis for art, adventure, and relaxation. It's most famous as a Hollywood hideaway for the likes of Frank Sinatra, Dean Martin, Sammy Davis, Jr and Marilyn Monroe. It's just as famous for its modernism architecture, with mid-century modern homes dominating the landscape. Feeling a little outdoorsy? You can experience the desert, waterfalls and natural oases by hiking one of dozens of popular trails that wind through the San Andreas Fault. Did we mention golf? Year round sunshine and warm weather means there's never a bad time to play golf in the desert. Over 100 courses, each with its own desert personality, means you'll never get bored playing in Palm Springs!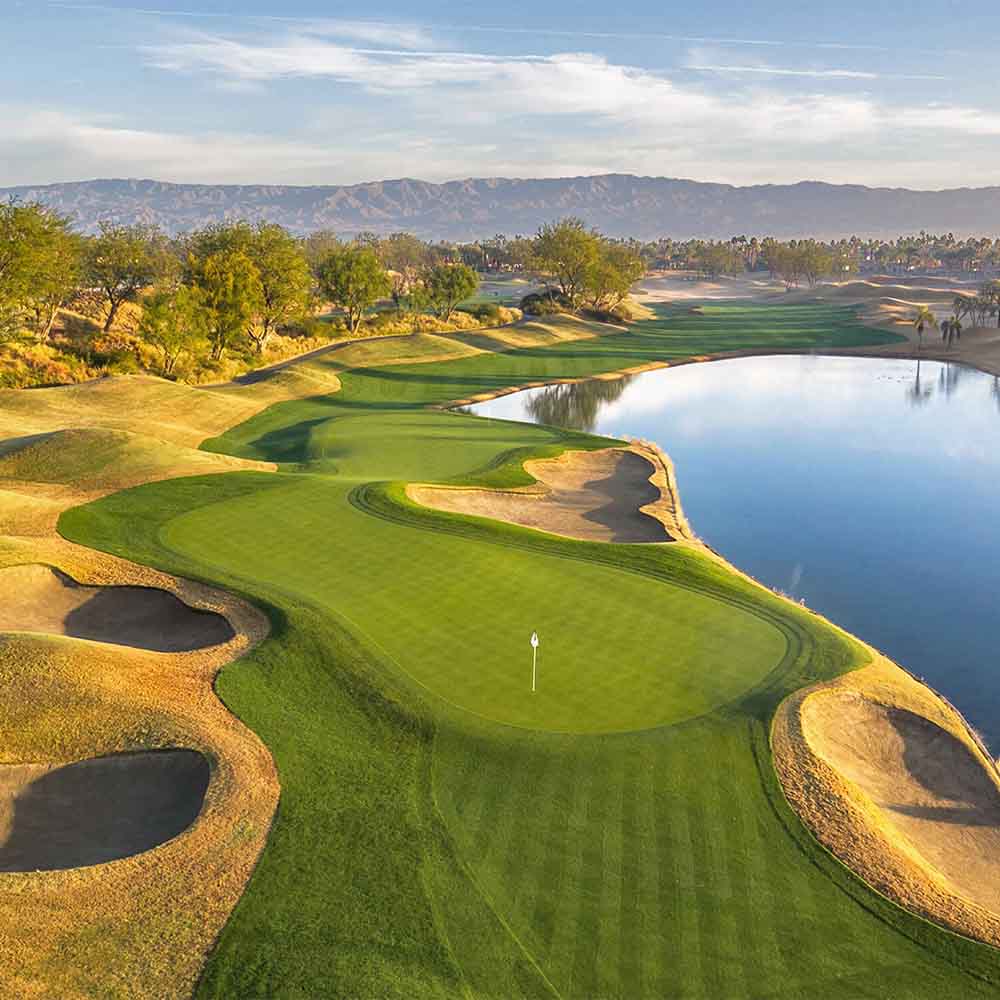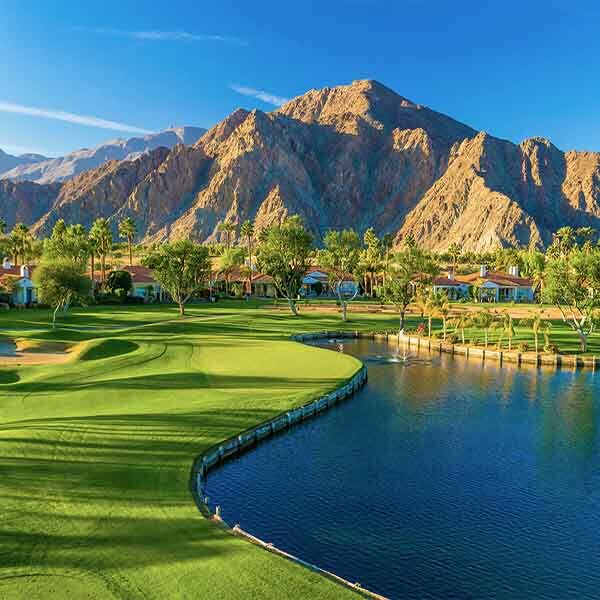 Stay & Play at PGA West Resort
5 Nights / 5 Rounds / from $1,750 USD
Stay at the luxury LaQuinta Resort & Club & play all 5 amazing courses at PGA West. Architects include Pete Dye, Jack Nicklaus & Greg Norman.
TOUR INCLUDES:
5 nights double accommodations at the LaQuinta Resort & Club
5 rounds of golf at Dye Stadium, Dye Dunes, Dye Mountain, Nicklaus Tournament and Norman Courses
Full breakfast each morning
Price includes all taxes and surcharges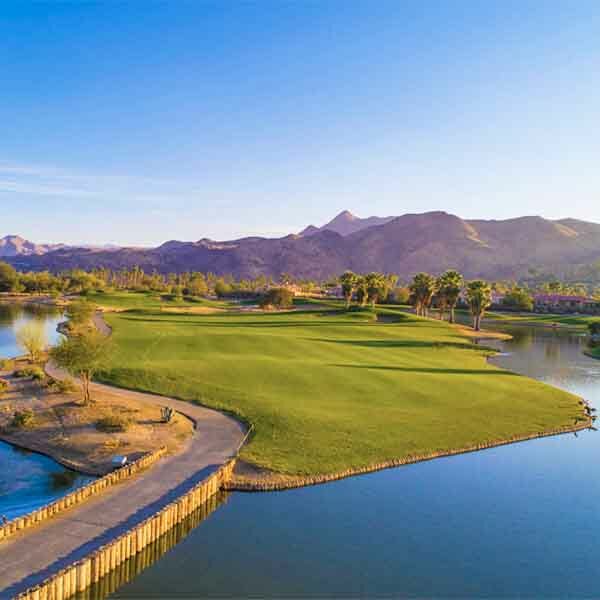 3 Night/4 Round Desert Tour
3 Nights / 4 Rounds / from $975 USD pp
Play 36 holes at Indian Wells and 36 holes at Tera Lago and stay at the Hilton Garden Inn at Rancho Mirage. Includes all taxes and surcharges.
TOUR INCLUDES:
3 nights double accommodations at the Hilton Garden Inn at Rancho Mirage
4 rounds of golf at Indian Wells Celebrity & Players Courses & Tera Lago North & South Courses
Price includes all taxes and surcharges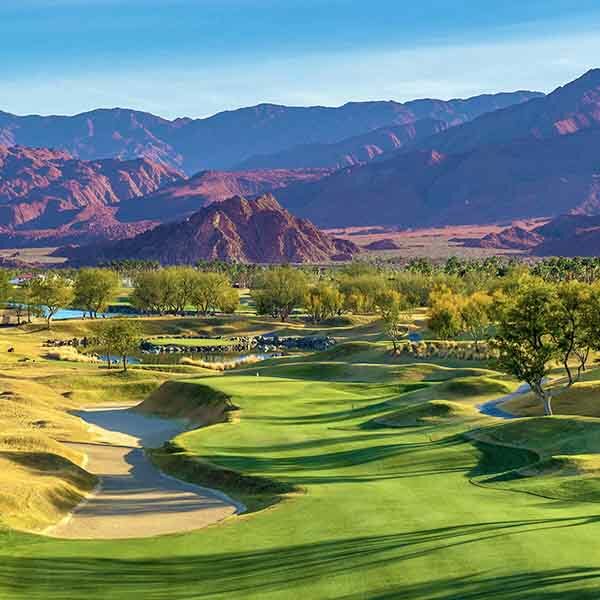 Enjoy Palm Springs in Grande Style
5 Nights / 5 Rounds / from $2,470 USD pp
Stay at the 5 Star Ritz Carlton Rancho Mirage & play The Classic Club, SilverRock, Mission Hills Player & Dye Courses and Tahquitz Legend. Includes breakfast and all taxes & surcharges.
TOUR INCLUDES:
5 nights double accommodations at the 5 Star Ritz Carlton Rancho Mirage
5 rounds of golf at The Classic Club, SilverRock, Mission Hills Player & Dye Courses & Tahquitz Legend.
Full breakfast each morning
Price includes all taxes and surcharges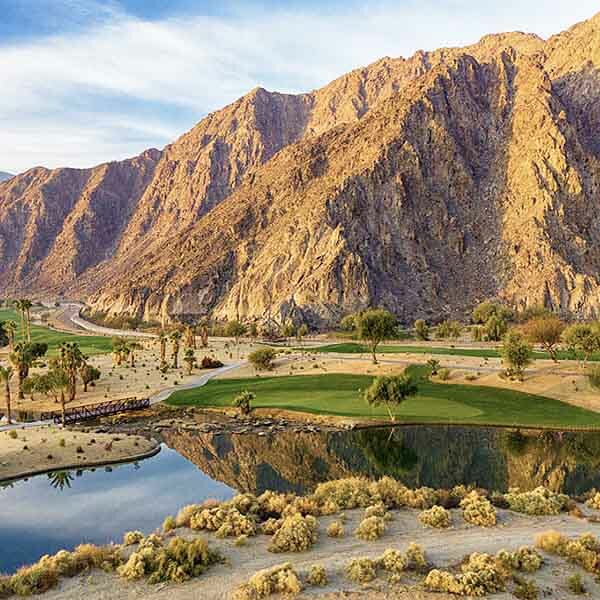 Stay & Play at Indian Wells Resort
4 Nights / 4 Rounds / from $1,170 USD pp
You'll play 2 rounds at Indian Wells Celebrity & Player courses & 2 rounds at Desert Willow Firecliff & Mountainview courses. Your lodging is at the Renaissance Esmeralda at Indian Wells.
TOUR INCLUDES:
4 nights double accommodations at the 4 Star Renaissance Esmeralda Resort & Spa at Indian Wells
4 rounds of golf at the Indian Wells Celebrity & Player courses & Desert Willow Firecliff & Mountainview courses.
Price includes all taxes and surcharges
Not quite what you're looking for? Let us tailor your personal Palm Springs golf vacation to perfectly match your style, pace and budget!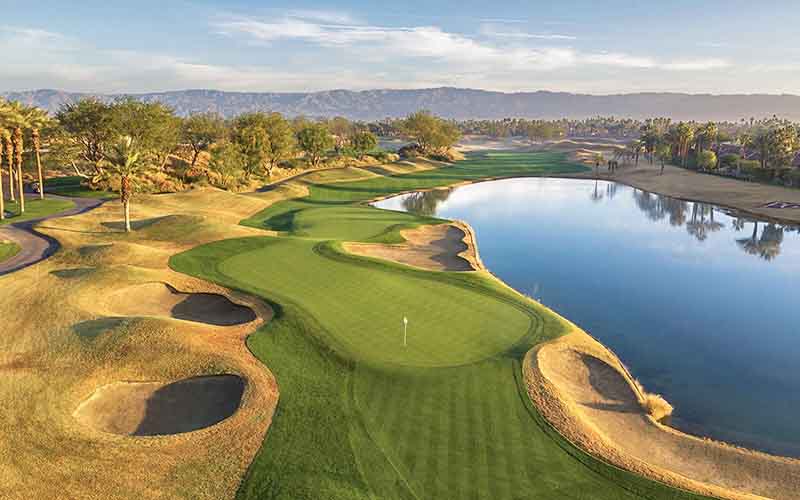 PGA West Resort (5 courses)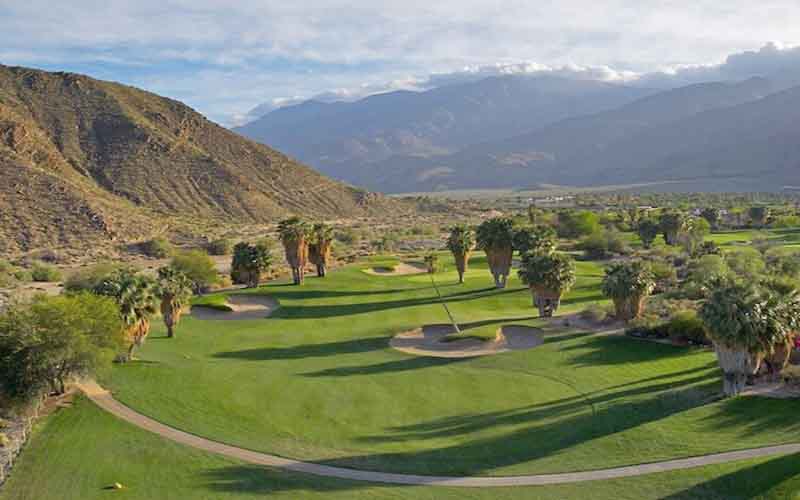 Indian Canyons Golf Resort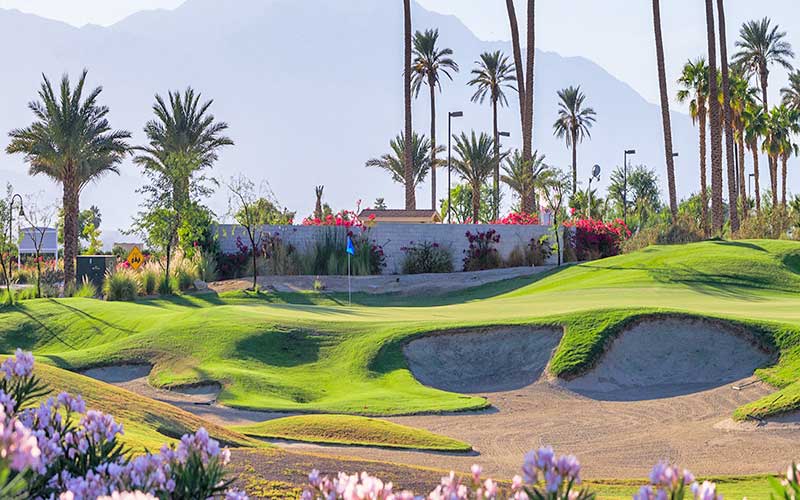 The Golf Club at Terra Lago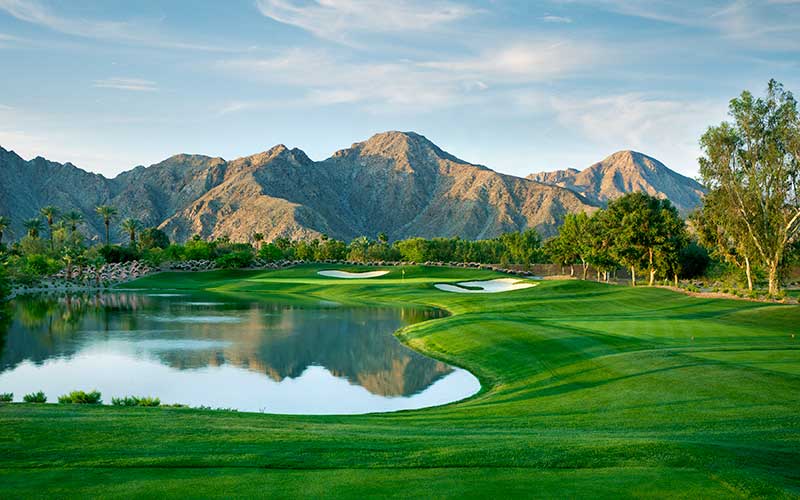 Indian Wells Golf Resort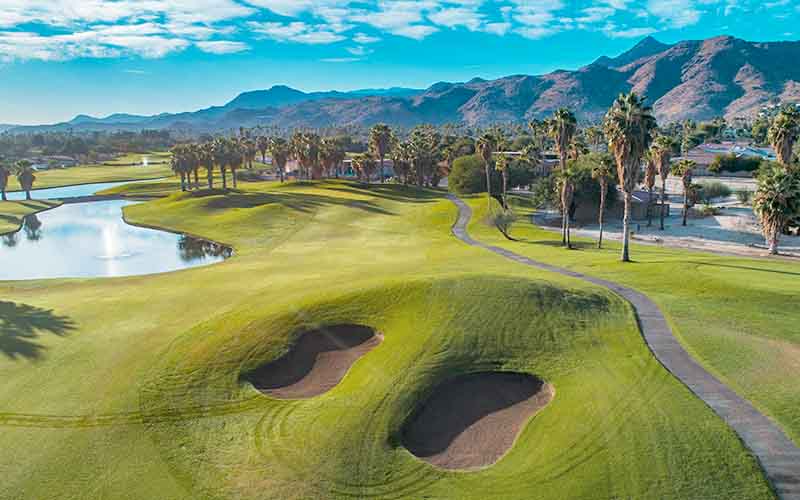 Tahquitz Golf Resort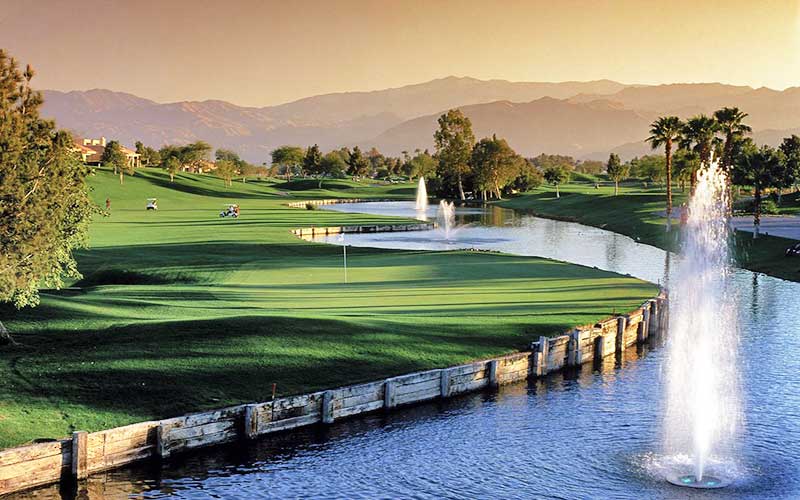 Mission Hills Golf Resort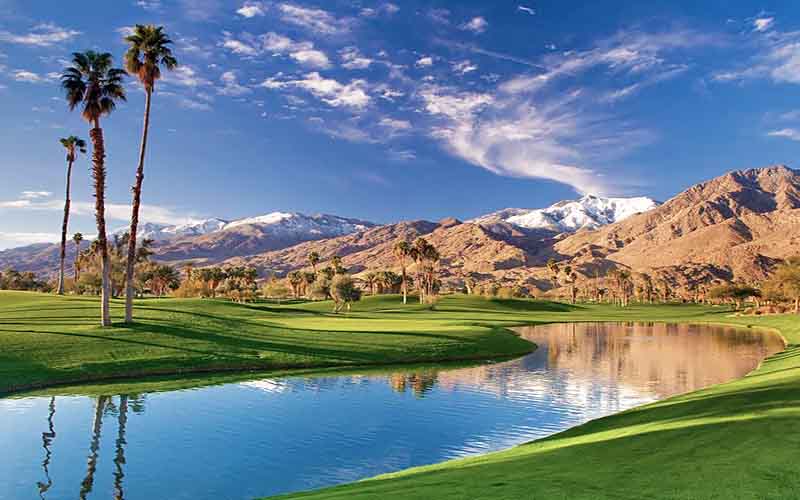 Escena Golf Club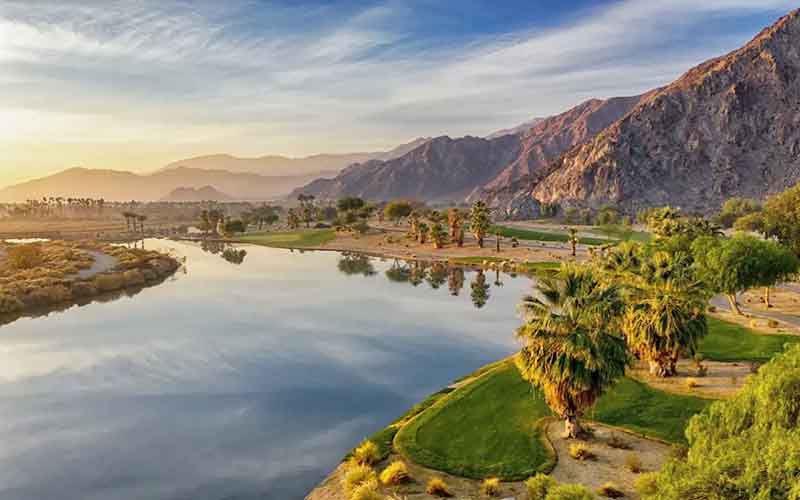 SilverRock Golf Resort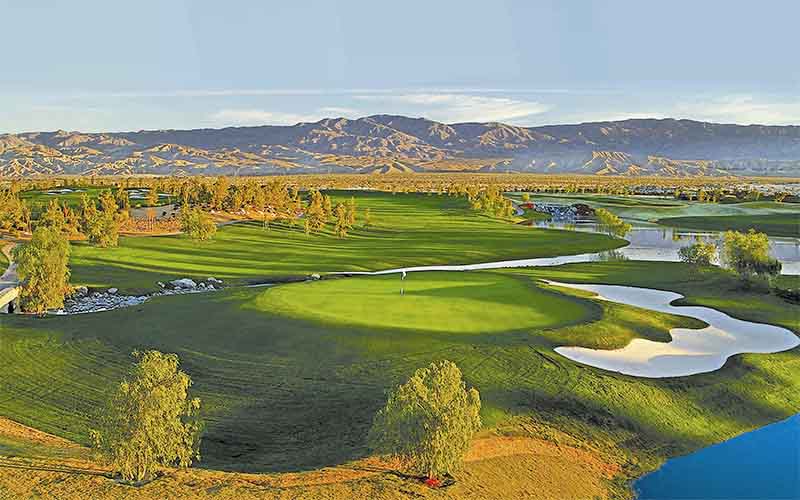 Classic Club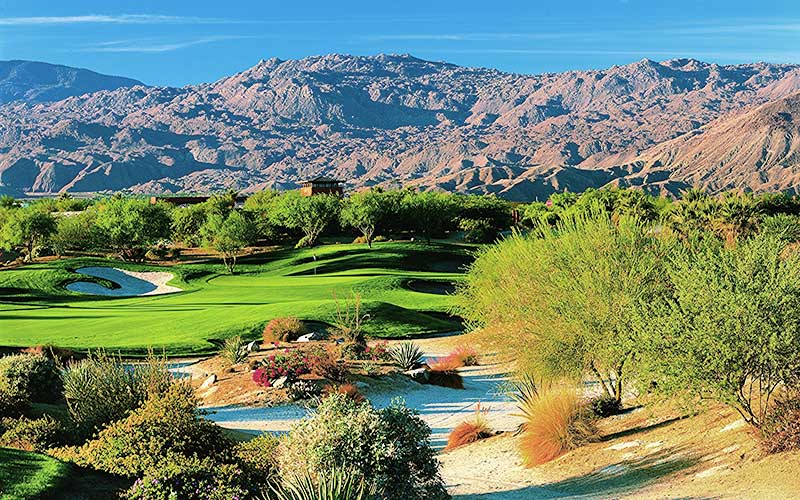 Desert Willow Golf Resort
PGA West Resort (5 courses)

PGA West has 5 outstanding golf courses you can play... Pete Dye Stadium Course, Pete Dye Mountain Course, Pete Dye Dunes Course, Nicklaus Tournament Course and the Greg Norman Course. Tucked into the desert mountains, each course offers a unique and challenging golf experience.

Dye Stadium Course
When you think of PGA West, it's the Stadium Course that first comes to mind. Rated one of the "Top 100 Courses to play" by GOLF Magazine and 4th toughest course in Golf Digest's "Top 50 Toughest Courses in America", there may be no greater challenge or excitement in the game of golf. Stadium is the Host course for the PGA TOUR Q-School"Finals every other year. And it's where Lee Trevino had a hole-in-one on #17 which won him a skin worth $175,000 in the 1987 TV Skins Game.

Dye Mountain Course
The Mountain Course, nestled at the base of the picturesque Santa Rosa Mountains, is famed for its Pete Dye design, playability and stunning visuals. This challenging course features pot bunkers and rock formations, as well as varying elevations of tee boxes and well-bunkered greens. Ascending to the top of the elevated tee box of the signature 16th allows you to fully appreciate the majesty of this course, named one of Golf Magazine's Top 100 You Can Play. The Mountain course has been the home to the World Cup, the PGA National Club Pro Championships and the California State Open.

Dye Dunes Course
The visual drama of the landscape and the sheer beauty of the desert showcase the Dunes Course, which is situated at the foot of the Santa Rosa Mountains. Pete Dye added a twist to the traditional Scottish approach for this links-style course. It favors accuracy from the tee and rewards carefully executed approach shots to its well-guarded greens. The Dunes Course is ranked among Golf Digest's "Top 75 Resort Courses" in America, and was the site of the 1998 PGA TOUR Qualifying School.

Nicklaus Tournament Course
Challenge, beauty and drama permeate the Nicklaus Tournament Course. At 7,204 yards long, the course features not one, but two island greens. The course is the bi-annual host of the PGA TOUR's final round of Q-School. Nicknamed by Members as the Nick Tourney, it is both very forgiving off the tee and extremely demanding around the greens. A popular host course for the Bob Hope Desert Classic, the course's elevated tees, sunken fairways, blind shots and severely contoured and shaped greens challenge amateurs and professionals alike. Without a doubt, a "must play" for not only a great test of golf, but for its magnificent desert setting.

Greg Norman Course
The newest course at PGA West is the only Norman-designed course in the Coachella Valley. Sporting only 68 acres of manicured turf with 102 crushed marble bunkers and shark blue water coming into play on 9 holes, this 7,200-yard course offers all any golfer can handle. Surrounded by an immense crescent of terra cotta mountains, the course teems with purple, white and yellow wildflowers and native grasses. As is typical of many Norman designs, the fairways are guarded not by thick rough but by sandy waste areas that often allow for a recovery shot, provided you don't find one of the lingering bushes.

Indian Canyons Golf Resort

Indian Canyons Golf Resort has been the jewel of the Coachella Valley since 1961. The resort is surrounded on three sides by breathtaking natural mountain vistas and is nestled at the base of the San Jacinto Mountains. Once a private club, this 36-hole facility was a favorite haunt of celebrities like Frank Sinatra, Bob Hope, and Jackie Gleason. Former U.S. Presidents Dwight D. Eisenhower, Lyndon B. Johnson and Ronald Reagan also walked these fairways.

The North Course was designed by William F. Bell, son of famed golf course architect William P. Bell. The longer of the two courses at Indian Canyons, the par-72 North plays 6,943 yards and features stunning mountain views and is surrounded on three sides by the San Jacinto mountains. Of the six water hazards on the course, the most notable is the lake between the 9th and 18th holes that is home to the famous Disney fountain, which to this day shoots water over 100 feet into the air.

The scenic South Course features rolling fairways and is home to over 1,000 palm trees and 500 Washingtonia Filifera, a cherished tree of the Agua Caliente Native American tribe. Once considered a hidden gem off the beaten path to Coachella Valley visitors, today, Indian Canyons can be found right in the heart of all the action in Palm Springs.

The Golf Club at Terra Lago

The Golf Club at Terra Lago presents 36 challenging holes (North Course and South Course) and features dramatic elevation changes, stunning views, and a beautiful and challenging island green par 3 which was a featured hole during the Skins Games played at The Golf Club at Terra Lago.

Challenging holes of all four nines zigzag across the banks of Southern California's All-American Canal for over a mile and climb to the heights of the earthen berm dike at the northern boundary. From dramatic elevated tees to undulating greens, the panoramic views span from San Gorgonio Mountain to the Chocolate Mountains and are accentuated by beautiful topography changes from east to west and north to south.

In keeping with the expansive desert theme of the courses, the fairways wind through colorful native desert vegetation, offset by the club's signature bridges made from vintage railroad cars. The entire Coachella Valley is a backdrop and magnificent sunrises and sunsets shining orange and purple can be experienced every day.

Indian Wells Golf Resort

This 36-hole Palm Springs golf resort, minutes away from the Palm Springs International Airport, is one of the few properties to have two courses ranked in the Top 25 "Best Municipal Courses in the US" by Golfweek Magazine. The Celebrity Course & Players Course have hosted Golf Channel's Big Break and the PGA's Skins Game.

Golf architect Clive Clark designed the Celebrity Course, which opened in 2006 to rave reviews. In addition to spectacular mountain views, course features undulating fairways and water in the form of streams, brooks, split-level lakes and striking waterfalls.

The John Fought designed Players Course opened in 2007 and features a classic American design complete with sculpted bunkers in a style reminiscent of Riviera, Winged Foot and the golf courses of Dr. Alistair Mackenzie. Most of the holes take full advantage of spectacular views of the San Jacinto, Santa Rosa and San Bernardino mountain ranges.

Both courses have received many accolades, including "30 Best Municipal Courses in America", "Best Courses You Can Play", "Southern California Best Playing Conditions" and "Golfers Choice - Top 50 Golf Courses in the US".

Tahquitz Golf Resort

The Tahquitz Creek Golf Resort offers 36 holes of distinctly different and unique desert golf...

The Legend Course was designed by William Francis Bell who also designed Torrey Pines, the La Jolla Country Club and the Bermuda Dunes Country Club. The Legend Course opened in 1957 and in 1996 added 40 bunkers to enhance the character and challenge of the traditional layout of just over 6,800 yards. The course meanders through several different neighborhoods, most as old as the Legend Course itself. Large mature trees line the fairway and four holes play across or through the Palm Canyon Wash.

The Resort Course, designed by well known architect Ted Robinson opened in 1995, is a desert links style course with rolling terrain, well-placed bunkers, wonderful waterscapes and tremendous mountain views. Famed designer Ted Robinson Sr. applied his philosophy of letting nature take its course with this modern desert layout. The use of natural draught tolerant desert landscape, reclaimed irrigation, and recycled materials such as used tires for mounding are an intricate part of the course and resort. The layout features an island fairway, multiple water features combined with flowers, magnificent views of surrounding mountains and three holes that play over the Tahquitz Canyon wash.

Mission Hills Golf Resort

The AAA Four-Diamond Westin Mission Hills Golf Resort enjoys a prime 360-acre setting in sunny Rancho Mirage boasting luxurious accommodations and 36 holes of championship golf.

The Dye Course is the more challenging, requiring golfers to hit precise shots throughout their round. The 6,706-yard, par-70 course presents a challenge for all skill levels. With hidden pin placements, carries over water, pot bunkers, elevated tees and railroad ties, the course incorporates all of the signature marks of architect Pete Dye. The course has hosted the LPG Tour, California State Open and Senior PGA Tour Qualifying.

The Gary Player Course is a 7,062-yard, par-72 course renowned for its seamless integration into the desert landscape. Featuring vast Bermuda greens, linked by rolling fairways and a variety of spectacular water features, this is a very playable and enjoyable course. The course features four waterfalls incorporated into the rock-lined water hazards and over 2,500 palm trees throughout the layout. Golfer Magazine voted the course one of the top ten new resort courses to open in 1998.

Escena Golf Club

Set amidst the panoramic beauty of the desert mountains, the Escena Golf Club is an 18 hole championship golf course by Nicklaus Design. Escena features a 7,233-yard, par 72 Southern California golf course built upon 172 acres and accentuated by heavily landscaped native areas and multiple water features.

Every hole offers a new view of the spectacular mountains that frame the Coachella Valley. Lush landscaping and thousands of palm trees make each hole feel as if you're the only one playing the course. Water concourses meander through the property, offering both a visual and auditory treat as you play. Strategically placed bunkers, water hazards and undulating greens are there before you, allowing you to decide how much you want to flirt with them.

Escena has earned impressive accolades, including being named as a Top Ten Public Course in California by PGATOUR.COM.

SilverRock Golf Resort

SilverRock's Arnold Palmer course is a challenging 7,239 yards, sprawling over 200 acres and is set against the backdrop and natural beauty of the Santa Rosa Mountains. SilverRock is a former home course of the PGA Tour's Bob Hope Desert Classic.

The course is considered one of Arnold Palmer's finest works, and is characterized by towering mountainside vistas, immaculate fairways, fast greens, and beautifully crafted water hazards. The course is every bit as good as the La Quinta and PGA WEST courses nearby and when it burst onto the scene in 2005, it was the only course in California to make the Top 10 New Courses You Can Play list by Golf Magazine.

Most golf courses in Palm Springs use the mountains as a picturesque backdrop for their holes, but in the distance. At SilverRock, Palmer has numerous holes that are literally right at the base of the mountain walls, even coming into play on several holes.

Classic Club

The Classic Club, home to the Bob Hope Chrysler Classic, was designed by Arnold Palmer with the input from the PGA Tour. The course features a Tuscany inspired Clubhouse with fine dining, locker rooms, pro shop and a display of Bob Hope's lifetime collection of golf memorabilia.

Classic Club has rolling terrain and features a design incorporating pine, olive and pepperwood trees, offset by flowering bushes, shrubs, and pine straw ground cover... all playing off of the surrounding mountains and vistas that are exclusive to the Coachella Valley.

There are numerous risk/reward opportunities around sand and water, with doglegs bending in either direction. The terrain is quite undulating with several elevated tees and generous, rolling fairways. Sand bunkers and ponds often squeeze the landing zones, challenging the shot making abilities of all levels of golfers. The green complexes are varied, some raised with daunting swales and depressions that make getting up and down a task, and most are well bunkered. The putting surfaces also vary, some medium sized and fairly level, while others are sprawling, tiered, ridged or very undulating.

Desert Willow Golf Resort

Desert Willow Golf Resort features two championship courses designed by Michael Hurdzan, Dana Frye and PGA Tour player John Cook.

Firecliff, measuring 7,056 yards, is a true test of skill where golfers must negotiate their way around extensive natural areas, numerous water features, and more than 100 bunkers and waste areas. Mountain View provides unmatched scenery and views while allowing for a more relaxing round of golf. Both courses are a perfect blend of playability and aesthetics and the mix of desert and grass is perfect. You don't feel like you're hitting to target fairways and greens, yet if you go way off line you're in the desert. It is a desert course done right.

In short, both courses offer an amazing golf experience... course layouts are excellent, views are spectacular, course conditioning is suburb and there are plenty of native plants and diverse wildlife to enjoy throughout your round. The facility was voted 4.5 Stars and a "Best Places to Play" resort by Golf Digest.
JW Marriott Desert Springs Resort & Spa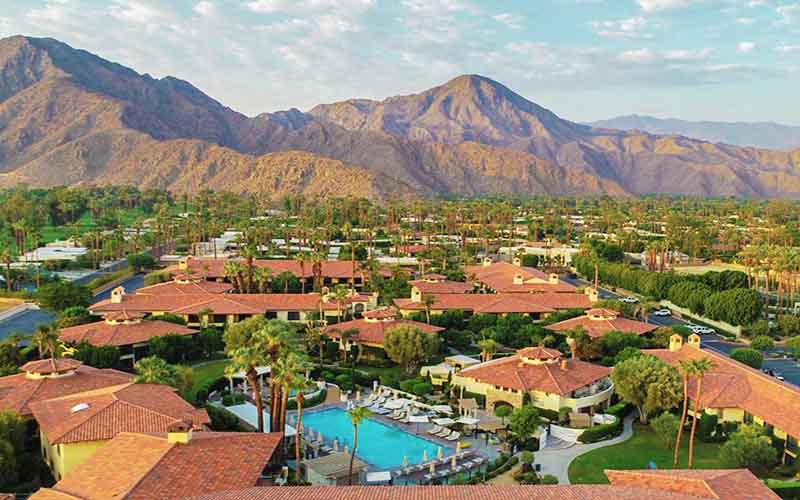 Miramonte Resort & Spa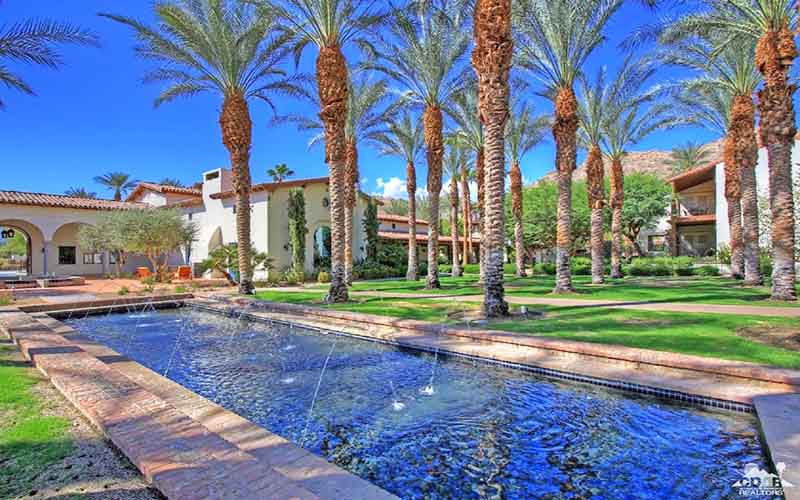 Legacy Villas La Quinta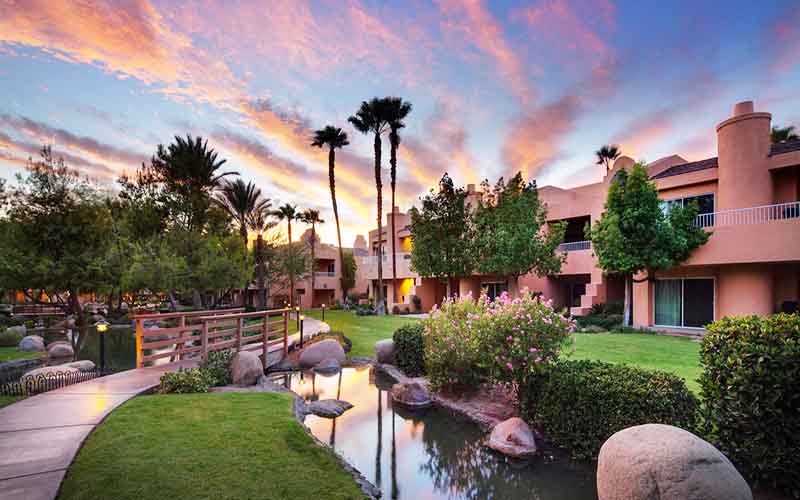 Westin Mission Hills Resort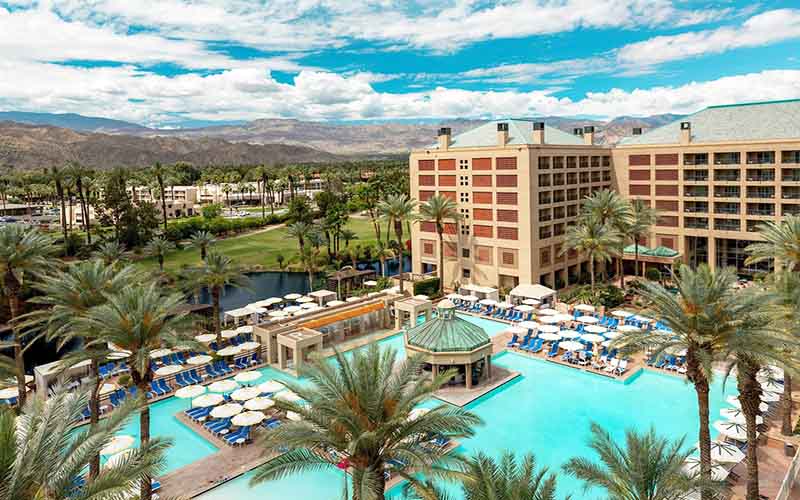 Renaissance Esmeralda Resort & Spa
JW Marriott Desert Springs Resort & Spa

Experience the beauty of the desert at JW Marriott Desert Springs Resort & Spa. This refreshed, luxury hotel features superb service, redesigned venues and a wide array of amenities.

The updated and reimagined hotel rooms and suites feature modern furniture, hardwood floors, indulgent bathrooms, workspaces with built-in USB ports and balconies.

Guest amenities feature a lobby complete with gondolas and meandering waterways, six restaurants serving everything from fresh sushi to locally sourced entrees, two championship golf courses, clay and grass tennis courts, a wonderful spa and 4 pools with stunning views of the nearby mountains.

Miramonte Resort & Spa

Discover a peaceful and relaxing retreat at the 4 Star Miramonte Resort & Spa, situated in Indian Wells and offering stunning views of the mountains along with 3 pools, an on-site restaurant, and bar.

Nestled at the base of the Santa Rosa Mountains, Miramonte's 215 guestrooms, suites & villas are woven into 11 acres of citrus groves and rose & herb gardens. Bougainvillea covered villas dot the wonderful landscape and offer a relaxing retreat from everyday life.

Relax with a massage from the full-service spa, play a round of golf on the championship course, or stroll through the acres of olive and citrus trees surrounding the hotel. A 24-hour fitness centre is also available and yoga is offered on Saturdays.

The Citrus & Palm Restaurant utilizes ingredients grown on-site and from local farm partners. It is open for breakfast, lunch & dinner. The Tavern Bar is an indoor and outdoor lounge that offers bar bites and cocktails with views of the property's gardens.

Legacy Villas La Quinta

Palm Springs' most exclusive desert hideaway since 1926, La Quinta's classic California architectural style and unique ambiance has attracted celebrities, athletes and connoisseurs in search of tranquility and an outdoor lifestyle. Located adjacent to the famed Waldorf La Quinta Resort and Club, Legacy Villas is a 44-acre vacation rental resort nestled at the foot of the Santa Rosa Mountains.

The villa resort has something for everyone, including 12 sparkling pools, 11 hot spas, state of the art fitness center, relaxing hammock-palm garden, complimentary cabanas, poolside café, walking trails, bike paths, outdoor fireplaces and an entertaining clubhouse, all set amidst lushly landscaped grounds.

Villas ranging in size from Studios to Three-Bedroom Townhomes offer all the comforts of home… wall-mounted SMART TV's with Showtime, HBO, Netflix and Hulu, comfortable Early California décor in soothing earth tones, Kitchen Aid appliances, Koehler fixtures, luxury bedding, linens, mattresses, pillows, and bath essentials, luxury bathrooms with deep soaking tubs and separate tiled showers, washer/dryer, fireplaces, and private patios with garden, mountain or pool views.

Westin Mission Hills Resort

The Westin Mission Hills Resort & Spa sits on 360 acres in the Palm Springs desert. Located in the Coachella Valley, just south of Palm Springs, the resort is ranked as one of the Top 50 Golf Resorts in North America by Golf Digest and is home to a Pete Dye championship golf course.



Renaissance Esmeralda Resort & Spa

Experience a relaxing golf vacation at the newly updated Renaissance Esmeralda Resort & Spa. Set against the Santa Rosa Mountains and within the beautiful Coachella Valley, the resort features oversized guest rooms, private balconies with scenic resort views and 36 holes of championship golf. You can relax with a massage in the award-winning Spa Esmeralda, bask in the sun by the sandy beach pool and stay fit in the 24/7 gym.

The hotel's mid-century modernized guest rooms and suites provide a tranquil private retreat. All guest rooms offer comforts such as premium bedding, air conditioning, safes and free newspapers. Other conveniences in all rooms include pillowtop mattresses, bathrooms with designer toiletries, 55-inch TVs with Netflix and premium channels, balconies and coffee/tea makers.
Surrounded by four picturesque mountain ranges and long sought-after by travelers for its inspiring scenery and sense of adventure, Greater Palm Springs is Southern California's most storied resort oasis. Greater Palm Springs encompasses nine cities... Palm Springs, Desert Hot Springs, Cathedral City, Rancho Mirage, Palm Desert, Indian Wells, La Quinta, Indio and Coachella, each offering its own blend of experiences as endless as the blue skies.
You might call Greater Palm Springs a geological wonder, with palm filled valleys, rock formations, mountains and oasis springs. Get a full lay of the land on the Palm Springs Aerial Tramway, which travels up 4 kilometers to Mountain Station summit. Ride a hot air balloon over the entire valley or head to Joshua Tree National Park and explore 200,000 hectares of wilderness. At The Living Desert, a zoo and botanical garden, see desert tortoises and Mexican wolves, as well as native flora.
You can golf on more than 100 courses in the area, soak in healing mineral waters or hike more than 100 trails. You can also spend days indoors exploring historic hotels, museums, designer shops and outlets and world-class art from outdoor sculptures to galleries.
Check out the world-class film, music, and art festivals, including many internationally renowned events. Or you can try your luck at one of several local casinos around Greater Palm Springs.